Neem calms, nourishes and moisturizes even the most sensitive skin.
"This is very good!"

TheraNeem Men's Lotion, made with organic Neem and cooling aloe vera, is an excellent addition to your daily shaving or skin care regime.

Theraneem Neem Leaf & Aloe Gel£9.50
Greaseless, fast-absorbing and fragrance free, TheraNeem Organix Neem Leaf & Aloe Gel can be used after sun or shaving. This formula is appropriate for all skin types to help protect & nourish your skin.

TheraNeem Leaf & Aloe Gel / After-Sun (Cooling Lavender & Mint)£9.50
Made with Certified Organic Neem Leaf Extract and Certified Organic Aloe Gel, along with Lavender and Peppermint Essential Oils this formula offers an extra cooling & energizing touch
"healing and soothing"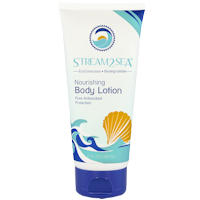 Nourishing Body Lotion£2.99 - £9.99
Replenish your skin following exposure to the elements with our after sun Nourishing Body Lotion made with our potent antioxidant blend of Green Tea, Tulsi, Wakame, and Olive Leaf.