Super Shaker Food Enhancer
SuperNature Super Shakers is a range of five delicious nutritious food and life enhancers for dogs. A shake a day over ANY food (wet, dry, fresh or raw) makes it even better and tastier. SuperNature Super Shakers are all about giving food an extra boost. Whether you're feeding a cheap supermarket food or the best raw organic diet, our superfood blends with pre & probiotics give any food an extra boost of beneficial micronutrients. 100% Natural. Extraordinary Toppers for Ordinary Food! Dogs and cats love it!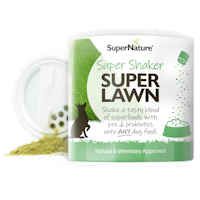 Super Shaker Super Lawn£10.99 £1.99
Our Super Shaker for Super Lawns adds a natural, tasty topping to your dog's meal. Packed full of super foods formulated to help reduce brown patches on your lawn. For dogs.
Offer valid until stock runs out- BBE July 2021